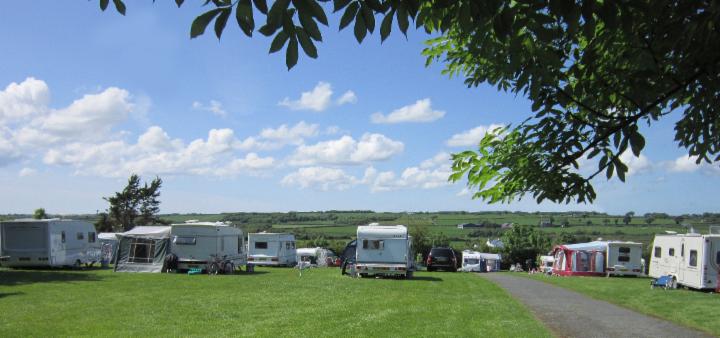 The easiest approach to Fron is via the A55 (Bangor by pass) over the Britannia bridge (see map 1). IMMEDIATELY at the end of the bridge just before the main road starts to rise and bear right take the slip road off to the left signed LLanfairpwll A5 and as this slip road splits stay to the left and join the A5. You should see the Marquis of Anglesey's column on your right very shortly as the A5 bears to the right. As you reach the 30 zone at the beginning of Llanfairpwll turn left on to the A4080 signed Newborough / Brynsiencyn. Follow the A4080 for 5 miles, about a third of this distance you will pass the National Trust Plas Newydd on your left, eventually you will enter the village of Brysiencyn with the church on your right.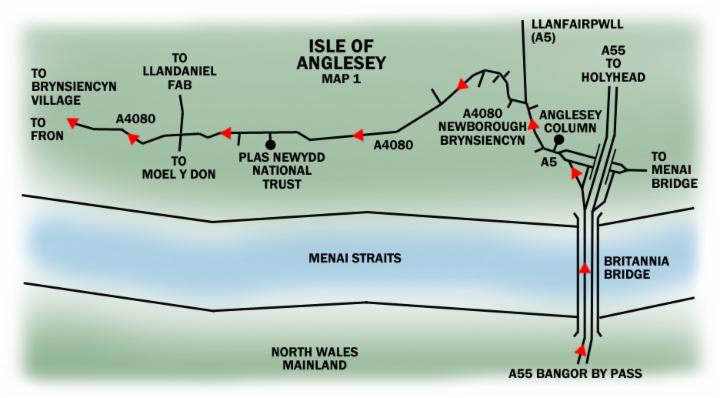 Shortly after this (see map 2) you will see the Groeslon Hotel on the right and the Heritage cafe on the left, follow the main road A4080 to the right and go through the village passing the village shop in the centre and after this the road bears right and starts downhill past the post office on your right. Carry on to the bottom of the village and the road bears left then straightens, Fron is situated on the right 1/4 mile out of the village.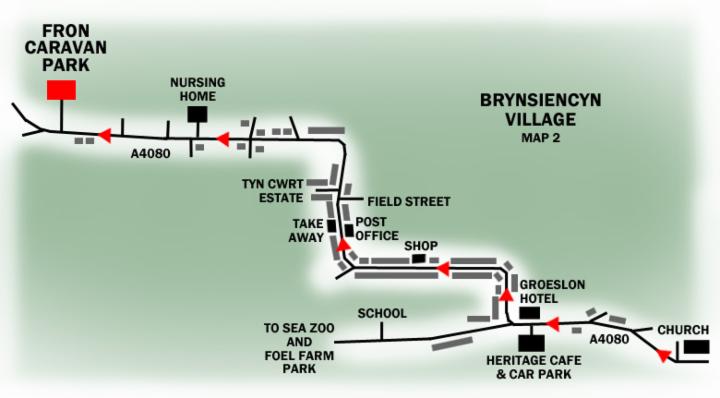 If you are using sat nav to navigate your journey the postcode for Fron is LL61 6TX but be aware that may not follow this route, however this is the quickest and most suited route.